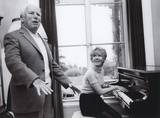 This is My Song
Music and Lyrics by Charles Chaplin for A Countess from Hong Kong, 1966
This song was released as a music tie-in for A Countess from Hong Kong in 1967. Petula Clark made it a hit, and other notable vocal artists recorded it soon thereafter.
Why is my heart so light?
Why are the stars so bright?
Why is the sky so blue
Since the hour I met you?
---