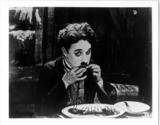 The Gold Rush Synopsis
Synopsis of the film exactly as written by the Chaplin Studios in 1925.
The Lone Prospector, a valiant weakling, seeks fame and fortune with the sturdy men who marched across Chilkoot Pass into the great unknown in the mad rush for hidden gold in the Alaskan wilderness. Lonely, his soul fired by a great ambition, his inoffensive patience and his ill-choosen garb alike made him the target for the buffoonery of his comrades and the merciless rigors of the frozen North.
Caught in a terrific blizzard, the icy clutches of the storm almost claim him when he stumbles into the cabin of Black Larsen, renegade. Larsen, unpityingly, is thrusting him from the door back into the arms of death when Fate, which preserves the destinies of its simple children, appears in the person of Big Jim McKay.
---