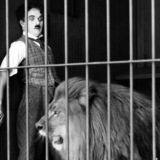 Filming The Circus
The Circus won Charles Chaplin his first Academy Award - it was still not yet called the 'Oscar' - he was given it at the first presentations ceremony, in 1929. The special award was for 'Versatility and genius in writing, acting, directing and producing'.
The film certainly merited the honor. It contains some of his best comic inventions, subtly balanced with sentiment that is kept tightly in control. Yet paradoxically, though, this is the only film from his mature feature productions which Chaplin does not once mention in his extensive autobiography. As late as 1964, it seemed, this was a film he preferred to forget.
The reason was not the film itself, but the deeply fraught circumstances surrounding its making. Chaplin was in the throes of the break-up of his marriage with Lita Grey; and production of The Circus coincided with one of the most unseemly and sensational divorces of twenties Hollywood, as Lita's lawyers sought every means to ruin Chaplin's career by smearing his reputation. At the height of the legal battle, production of The Circus was brought to a total halt for eight months, when the lawyers sought to seize the studio assets. Chaplin was forced to smuggle such of the film as was already shot to safe hiding.
---