Charlie Chaplin... His Recipes!
by Lisa Stein Haven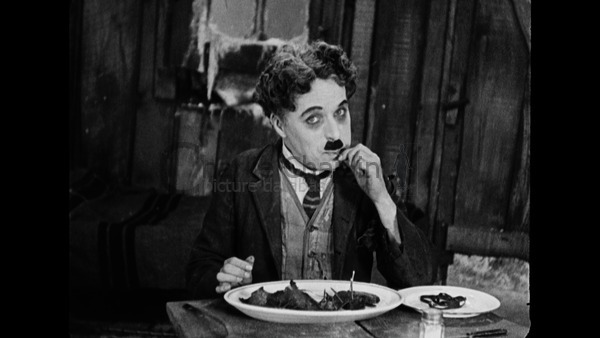 It has long been recognized that "food" in one form or another was a very important part of Charlie Chaplin's life and art. Scenes as widely recognized and remembered as the boiled shoe Thanksgiving dinner in The Gold Rush, to the pancake breakfast and "hearty" stew dinner of The Kid and the strawberries and "Henglish" mustard of The Great Dictator are just a few examples. How many people know, however, that Charlie was also in the habit of publishing his recipes?
Throughout his public life, Charles Chaplin was called upon by one organization or another to donate a favorite recipe for publication in a cookbook to be sold to raise money for charitable purposes. The very first of these was Celebrated Actor-Folks' Cookeries. It was published in 1916 by Mabel Rowland, Inc., with the proceeds being donated to the Red Cross and the Actor's Fund. Recipes from the book have been donated by the likes of Douglas Fairbanks and Mary Pickford (not a couple at this point), Chester Conklin, Mabel Normand, Roscoe Arbuckle, Mack Sennett and more. Charlie not only donated a recipe for an apple roll, but a picture, an autograph, and a comment as well.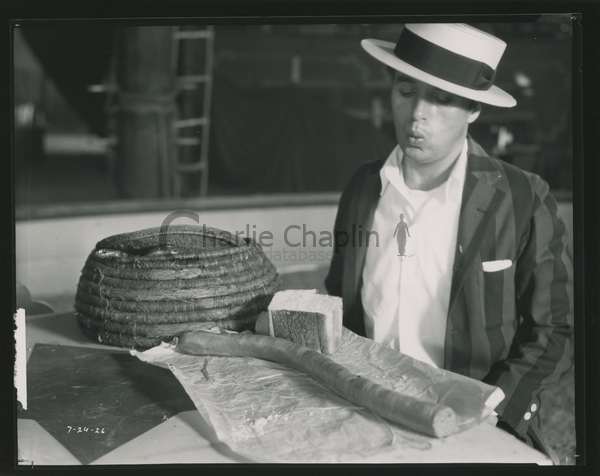 The next cookbook doesn't appear to benefit anyone but the author, one C. Mac Sheridan. Entitled The Stag Cookbook, it was published in 1922. Sheridan dedicates the book to: "That great host of bachelors and benedicts alike who have at one time or another tried to 'cook something'; and who, in the attempt, have weakened under a fire of feminine raillery and sarcasm, only to spoil what, under more favorable circumstances, would have proved a chef-d'oeuvre." The social status of the participants here is quite different from the last book. Listed in the contents are such notables as Warren G. Harding, the American president, Booth Tarkington, John Philip Sousa, Will Hays (yes, of the Hays Commission), and William Jennings Bryan. Doug Fairbanks and Harold Lloyd are among the notable "stags" as is Charlie—and he picked quite an "Henglish" favorite: steak and kidney pie. And, here it is:
Get 2 pounds lean steak, 1 beef kidney, and 1 small onion. Cut the steak and kidney into two inch pieces. Flour them. Add pepper and salt to taste. Line a deep pie dish with rich pie crust after having buttered dish. Put inverted egg cup in center. Fill with meat and finely chopped onion. Add water almost to top of dish. Roll pastry half inch thick and cover all. Make several small holes in pastry to permit steam to escape. Bake three hours in moderate oven. EAT.
Nearly twenty years and another world war prompted the next appearance of Charlie's culinary genius. The title this time was Specialites de la Maison published in 1940 to benefit The American Friends of France. Author Louis Bromfield's introduction belies the political consciousness of this book, which aligns itself nicely with Charlie's own political agenda at this time, as evidenced by The Great Dictator and his growing interest in speaking to the public on politically charged issues: "As for the purpose to which the sale of this excellent and interesting book is dedicated, there is no need for explanation or commendation. The proceeds of its sale will go to help those who are fighting for civilization and in civilization the art of cooking holds a high place."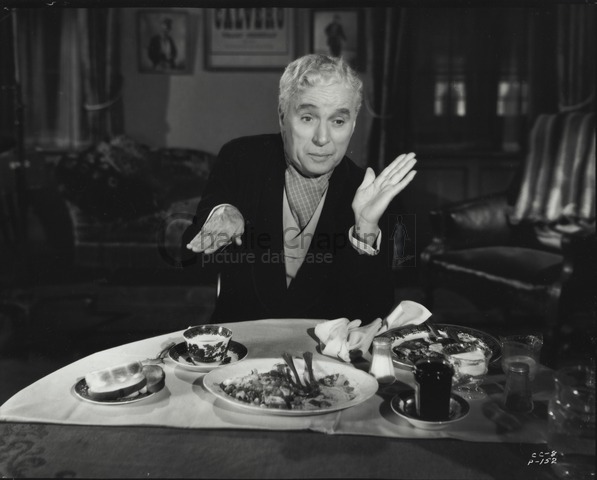 Here Charlie's favorite breakfast makes an appearance:
Sour Cream Hot Cakes
2 cups sour cream
2 eggs
1 tsp soda
1 tsp salt ¾ cup flour
Stiffly beat egg whites, add yolks. Beat together; then add sour cream, soda and salt. Beat all together and add flour. This makes about 30 small pancakes.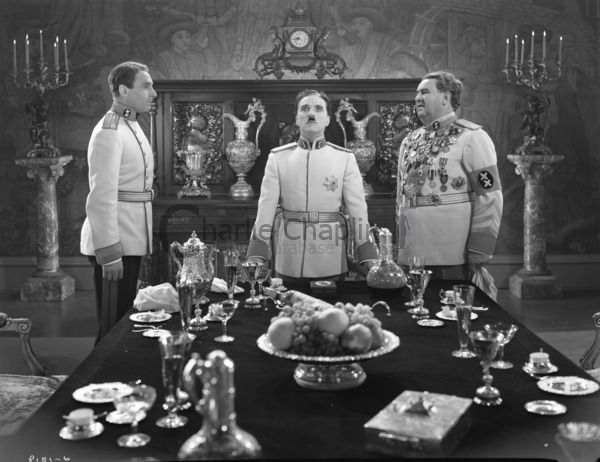 Sincerely Yours, published also in wartime (1942) and compiled by Bess Boardman, provided money to war relief organizations. Boardman writes in her dedication that "because I am one who considers it [cooking] a great art, I am dedicating this little book to those persons who have acquired, by certain sensory training, a true understanding of that intangible something which is the art of cooking." Listed as Charles S. Chaplin, as if the "S" were necessary at this point, Charlie offers us Welsh rarebit, a dish still today on the menu at Musso and Frank's on Hollywood Boulevard, a place he frequented over the years with Douglas, Paulette, and many others.
By 1970, the "golden spatula" as it were had been turned over to Oona, whose recipe for cherry sweet rolls is duplicated for publication by Mrs. Earl Wilson for her The Beautiful Wives Cookbook. Here, the story of the roll sampling at Manoir de Ban is more entertaining than the recipe itself which Mrs. Chaplin was unable to offer because she was sick in bed. Mrs. Wilson relates:
While the tea was being poured . . .I helped myself to one of the sweet rolls presented by the butler. "Ohh, my!" My bite was too large or misdirected, for the roll and the plate it was on hit the floor. My husband, observing this mishap, was about to rebuke me, at least with a scowl if not with words, when his sweet roll and his plate also slapped the floor. "What will Mr. Chaplin think of us?" I was thinking, when Mr. Chaplin's plate and his sweet roll plunked on the carpet. […]
As we were leaving leisurely by limousine a half hour later, with Mr. Chaplin ever so graciously shaking hands and wishing us well, I had a sudden thought: Did he drop his roll on that beautiful carpet deliberately to keep us from being uncomfortable because we'd dropped ours? We'll never know.
While I am sure there are more delectable Chaplin recipes yet to be found, I will end with the first several-course meal included in The Myra Breckinridge Cookbook, also 1970, a book which is introduced by the quote, "Myra Breckinridge is a dish, and never forget it." The first entry is, indeed, "The Gold Rush Shoestring Spaghetti Dinner" complete with Shoestring Spaghetti (spaghetti with clam sauce), Shoe-tender Sole (filets de sole with grapes), asparagus salad, boiled new potatoes, crème brulee, and Parker House rolls. Bon appetit!!