Chaplin Radio Broadcasts
An article by Lisa Stein Haven
First Broadcasts
Charlie's relationship with radio as a medium has been little discussed, so it is exciting to discover that he was a sort of pioneer in using this medium as a means to market his work. He may have made the transition to sound film slowly and even reluctantly, but he was using radio to his advantages as early as 1923, just three years after the first ever radio program at Station KDKA in Pittsburgh on November 2, 1920 and the same year (1923) in which radio was first considered a stabilized (established) medium ("Radio Bells to Welcome the New Year," New York Times, 30 Dec. 1923).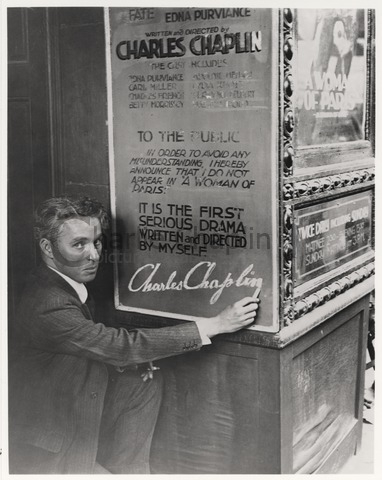 Listed as "Talk by Charlie Chaplin" on the schedule for Newark, New Jersey's Station WOR, Charlie took advantage of his trip east for the premiere of A Woman of Paris to try out the airwaves. The talk was to last a half hour, beginning at 9:00 PM on October 3rd. The Radio Digest Illustrated gave the program front page coverage in its October 27th issue with the headline "Charlie Chaplin 'Acts': Comedy King Afraid When First on Air." The article relates that Charlie was "visibly agitated as he made ready" that night in the studio. " 'This is quite an ordeal, you know,'" said Charlie to the station director, J. M. Barnett. " 'You have to use your imagination so much. . . You can face the camera, knowing that if you make a mistake, if you slip up, you can try again; you can make over the picture. But think of all the thousands of people out there in the world hanging onto every word I say.' Charlie mopped his brow and grimaced in the way that has thrown millions into uproarious laughter. 'I don't know what to say; I haven't prepared a speech,' he said pitiably." However, soon it was time for newspaper man Alfred J. McCosker to introduce Charlie to his waiting audience. And so Charlie began:
" 'This is the first time I have spoken over the Radio. It is to me, ghastly to think of you in your homes with Tom, Dick, Katherine, Harry and the baby all gathered around, and me here by this funny little thing, perforated with holes (the thing, not I), my knees trembling, my hands tightly clasped. I feel like the young actor whose only line was 'There is a man downstairs who calls himself Solomon Isaacs.' As the young actor was pushed onto the stage he managed to sputter something that sounded like Si-mol-ix.
Now I'm beginning to get a little confidence. So I'm going to give you a few imitations. First, I'll imitate a violin [played by a WOR staff member]. Next, I'll imitate a saxophone [again, played by a staff person]. Now, all of you—listen to the jazz band.' No imitations were these. But the trickery of the comedian tickled almost the whole country. [And then,] 'When you have nothing else to do, go to see my new picture, which I directed—'A Woman of Paris.'"
This radio experience preceded the famous compilation program of Hollywood stars that aired in 1928 by nearly five years. This second radio experience came about for a completely different reason—ostensibly to see if the voices of silent films stars could please an audience when the inevitable switch to sound film took place. The New York Times reports approximately a week before the broadcast on March 29, 1928 from 9 to 10:00 PM that Pickfair, Mary Pickford and Douglas Fairbanks's home, would be the makeshift radio studio for the effort and Dodge Brothers Automobiles the sponsor. Just four days before the broadcast, D. W. Griffith had dropped out as master of ceremonies with Douglas Fairbanks taking over the spot. Fairbanks was to speak on "Keeping Fit." John Barrymore was scheduled to give the soliloquy from Shakespeare's Hamlet, Norma Talmadge to speak on "Fashions in the Motion Picture World," Griffith demoted to giving a talk on "Love," of all topics, and Dolores Del Rio to sing a Spanish song. Paul Whiteman and his orchestra were to provide the necessary musical accompaniment. Charlie is mentioned as signed on, but his particular contribution was at this point still unknown.
In an article published the day following the broadcast, entitled "Movie Stars Give Big Radio Program," the New York Times reports that it reached 55 stations across the U.S. over the NBC network. Edward G. Wilmer, President of Dodge Brothers, surprised the audience by announcing his first six-cylinder car, called "The Standard Six." Following this announcement and a performance of "Together" by Paul Whiteman and Company, Douglas Fairbanks, Norma Talmadge, Dolores Del Rio and D. W. Griffith all performed as planned. After another number by Whiteman, Charlie got his turn at last, telling only what are described as "characteristic stories," which film critic Alexander Walker later described as "anecdotes in Cockney and Jewish dialects" (The Shattered Silents, 1979). John Barrymore then rounded out the evening with his rendition of Hamlet.
As Rob Farr notes in his online essay "Screened but Not Heard: The Big Broadcast of 1928," "the broadcast was a flop. Clear reception was hindered by rainfall throughout much of the Northeast and ice storms in the Midwest. Audiences at the 5th Avenue Playhouse in New York chanted 'take it off!' and after twenty minutes it was." Judgment of Charlie's particular performance followed along these lines. A critic labeled "Abel" from the April 4, 1928 Variety opined that he'd "rather see Charlie in make-up, than hear Charles from now on." Clearly, this second radio experience offered a few lessons—most notably "solo is the way to go." While this setback may have added to Charlie's general distrust of sound film, it would be hard to argue for a direct cause-and-effect relationship between this radio experience and his delay in transitioning to sound films. However, it is probable that this experience may have led to his decision to decline the offer he received in early 1931 for $670,000 for 26 weekly radio broadcasts (Robinson, Chaplin: His Life and Art 421).
---
A Changed Man
When Charlie returned from his visit to depression-ravaged Europe in June 1932, he was a changed man. His social consciousness had gained a new energy during his seventeen-month sojourn and his creative activity was greatly affected by this change. Charlie began to do the first serious writing of his life, beginning with his economic policy, released to the media on June 27th immediately following his return. He would soon employ whatever means at his disposal in order to use this consciousness positively. As he states at the end of "A Comedian Sees the World,"
"Looking back on my holidays leaves me with an outstanding impression. Europe and the different countries I visited, embroiled in unrest, seem brewing a new epoch–theistic, sociological and economical–unprecedented in the history of civilization. It animates me with a desire for accomplishment–not in the old way but in something new; perhaps in another field of endeavor."
In so doing, Charlie found another motivation for performing on the radio—a political one that seems to first have been suggested to him by the Franklin D. Roosevelt Whitehouse. FDR spoke to Congress on May 17, 1933 about his new National Industrial Recovery Act. After the final approval of the act, which called for industrial self-regulation and set forth codes of fair competition, allowing workers to organize and bargain collectively if they wished, the National Recovery Administration (NRA) was established to regulate, mediate and/or enforce the new industrial codes. As he states in the introduction to his radio speech just a few months later (23 October) on station KHJ of the CBS network in Hollywood, Washington asked Charlie to speak on behalf of the NRA "seriously." This could indicate the nature of his acquaintanceship with FDR (the two met during the Liberty Bond Rallies in 1918), his continued fame and celebrity, and/or the new level of respect he was receiving for his economic expertise.
Charlie's 800-word speech must have taken only five minutes or so of air time, but it gave him an opportunity to try to make an immediate verbal impact—one he would later utilize in both The Great Dictator's ending speech and in Verdoux's courtroom speech. In the paragraph below, taken from the original typescript, we can easily see Charlie using some of this rhetorical oratory quite well:
"Let us support the goodwill of the government that still maintains the principles of democracy—that allows Capital and Labor to cooperate and devise a code of their own free will. Many of these codes are in operation, and are satisfactory and just to both parties. Others are still in abeyance, but to help those who have already adopted their codes, we must do our part and give them our patronage. We must BUY NOW, and buy from those patriotic firms who are doing their part."
Repeating this "Buy Now" phrase, then, throughout the remainder of the speech, Charlie ends with these lines—ones sounding very much like those of the barber ending The Great Dictator:
"The government has given us a program, and now it is our turn for action. So let us Buy Now to make that program a success. Let us all do our part. Capitalists, industrialists, workers, men of all classes, let us unite in one great cause—a cause that will relieve the misery of the unemployed, a cause that will shorten the hours of labor and raise the standard of living, so that all classes of enterprises can survive—all classes of men can enjoy the fruits of their labor—abiding in harmony side by side, each of us striving for the common good of all."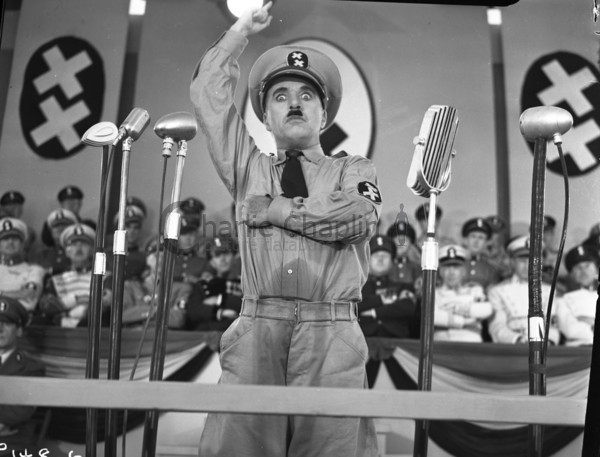 While we hear voice-over narration widely used in Modern Times and The Great Dictator, it is really the latter film that makes greater use of the radio as a dangerous purveyor of wisdom/propaganda. We see Hynkel standing before a row of radio microphones, understanding then that his nonsensical diatribes are reaching the airwaves as well as the hearts and minds of those standing before him. And then, again, we hear Hynkel in just such a broadcast after banker Epstein has refused to make Ptomania a loan and Commander Schultz has betrayed the Phooey and been taken into captivity as a result. Most importantly, though, we see the barber-as-Hynkel's final speech—radio broadcasting used for good– and then hear and see its effects on Hannah as she is told to "Look up!"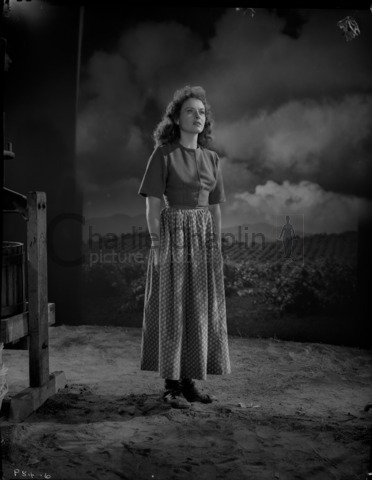 The radio-worthiness of this final speech, or at least the rhetorical expertise of it, caused it to be utilized and re-performed many times. It appeared on Christmas cards in 1940 and Charlie was asked to perform it twice during FDR's final inauguration celebrations in 1940/41. The first was at The National Press Club Annual Dinner in honor of FDR, held on November 9, 1940. The second, at the Daughters of the American Revolution (DAR) Inauguration Concert held at Constitution Hall in Washington, D.C. on January 19, 1941 and broadcast on WEAF, WOR, and WABC from 10:30 to 11:00 PM. In an article entitled "4,000 Attend Gala on Inaugural Eve," The New York Times reports that Douglas Fairbanks, Jr. pinch-hitted as the master of ceremonies and actors such as Raymond Massey, Mickey Rooney, Ethel Barrymore, Irving Berlin and Nelson Eddy "performed in various roles associated with their talents, with one exception. This was supplied by Mr. Chaplin who left behind the accessories and mannerisms of his famous tramp character, and instead delivered the concluding dramatic speech from his film, The Great Dictator.'"
Charlie himself describes his experience that night in My Autobiography. Having endured a tense meeting with the President in which he downed too many martinis, Charlie found himself too dry to make it all the way through his speech at Constitution Hall later that evening. The glaring radio silence that resulted while someone fetched a glass of water stood in stark contrast to what Charlie called "plenty of Nazis" in the audience, who had tried earlier to disrupt the onset of the speech with over-loud coughing.
While a rare recording exists of Charlie taking part in Robert Arden's controversial political talk show "America Looks Abroad" in 1942, Charlie's later broadcasts mostly left politics in the back seat. One later interview has as its subject matter Kennington. It was a sort of postwar sentimental look at old London and Charlie's old neighborhood within it. And shortly after the Chaplins' arrival in London in 1952, Charlie agreed to a short unscripted interview for the BBC Light Programme. He was interviewed about his career by Dilys Powell, Sir Michael Balcon, Paul Holt, John Mills and Robert Mackenzie (Robinson 577). Of course, we all know that Charlie still appears on the radio today, his vociferations being used on National Public Radio and the BBC, among others. His appearances "on the air" were indeed few and far between, but still more numerous than those on television, which, outside of the news, may be limited to his appearance at the 1972 Oscar ceremonies in Hollywood. What might it have been like to see and hear him interviewed on that venue?
[Special thanks to Kate Guyonvarch of Roy Export S.A.S. for the 1933 NRA Speech.]